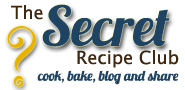 It's that time again, Secret Recipe Club. This month I was given the blog Diethood. There was so many delicious looking treats on there. But when I saw the Peanut Butter Banana dip I knew it would be perfect for our MOPs meeting. Each week different people bring in food and we do potluck style. I almost always do something sweet because hey it's what I like… But this time I went this route. I served with apples and vanilla wafers. The apples were a huge hit… as was the dip. It has a slight banana taste but more then anything just peanut butter. This is an excellent dip to keep in the fridge for the kids to snack on.
Peanut Butter Banana Dip (From: Diethood)
1 large banana, mashed
1/2 cup creamy or chunky peanut butter
1/3 cup sour cream
1/3 cup powdered sugar
1 teaspoon pure vanilla extract
Combine all ingredients, excluding dipping food, into a blender and pulse a few times until thoroughly combined.
Stir before serving.
Serve with fruit, cookies, chips, pretzels etc.
© 2013, Carrie. All rights reserved.