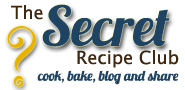 I had a blast browsing Rhondas Blog The Kitchen Witch. I kept searching for the perfect recipe. But I kept going back to the nutella no bake cookies. I loved that there was no heating of the oven, it was everything I already had in the pantry and Maddy could help make them as they were simple. Oh and no eggs so I didn't care how much dough she ate.
These were so simple to make. I halved the recipe as I didn't need 2 dozen cookies sitting around but they were gobbled up quickly.
No-Bake Nutella and Pretzel Cookies (From: The Kitchen Witch)
1 cup sugar
1/2 cup whole milk
1/2 cup unsalted butter
pinch of salt
3/4 cup Nutella
1 teaspoon vanilla
2 cups quick cooking oats
1 cup pretzels, broken into small pieces
In a large sauce pot over medium high heat, bring sugar, milk, butter and salt to a boil. Boil for 1 minute. Remove from stove, add Nutella and vanilla, stirring until smooth.
Fold in oats and pretzels. Let cool for 2-3 minutes until it starts to hold together. Drop onto wax paper, and let cool completely.
© 2013, Carrie. All rights reserved.