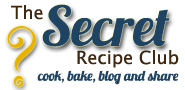 I've never been big into scones. My Mom asked me to make them years ago and they were a bust. Too much liquid I believe. And then I just never tried them again. But then I made the cherry white chocolate scones this summer and was hooked. I've been looking for a good recipe to try since then.
So when I got assigned NY City Eats for Secret Recipe Club and ran across this scone recipe I knew it was meant to be. Cinnamon chip scones sounded perfect. These did not disappoint! I would add a little spice next time as the batter was a tad bland, but the chips helped offset that. I enjoyed these a ton!
Cinnamon Chip Scones (From: NY City Eats)
2 cups flour
2 tsp baking powder
1/2 tsp baking soda
1/2 tsp salt
2 Tbsp sugar
1/2 cup butter
1 1/2 cups cinnamon baking chips
1 egg, separated
1 1/2 tsp vanilla
3/4 cup buttermilk
1 cup cinnamon chips
Preheat oven to 375°F
Combine the dry ingredients, flour, baking powder, baking soda, salt and sugar in a mixing bowl. Add butter slowly, mixing well.
In a separate bowl combine egg yolk, vanilla, and buttermilk. Add dry ingredients, mixing completely. Stir in cinnamon chips.
On a floured surface, roll out dough (with hands) to 1/2″ thickness. Cut into scones, place on an ungreased cooking sheet, and brush egg white over scones.
Bake for 15-18 minutes or until lightly golden on top. Transfer scones to cooling rack and let cool for 5 minutes. Enjoy!!
© 2012, Carrie. All rights reserved.