I love gyros, but am kind of picky about them and it's not very often that we get out to a resturant and can order them. My Dad took me out to a greek resturant for my birthday back in January and thats the last time I have had a gyro. As soon as I saw this recipe on my google reader I knew I had to make them, but it seemed a little too time consuming for a weeknight so I was waiting for the perfect weekend. This weekend we spent the weekend at my dads house, since I knew he too loved gyros I made these.
The prep is a little time conusming, mostly the cucumbers and yogurt for the sauce. But I think if you did want this for a week night dinner you could prep it the night before. This was excellent, we didn't use tomatoes as my dad and I don't like them. The chicken has EXCELLENT flavor. I can't wait to make these again.
Chicken Gyros (From: Elly Says Opa!)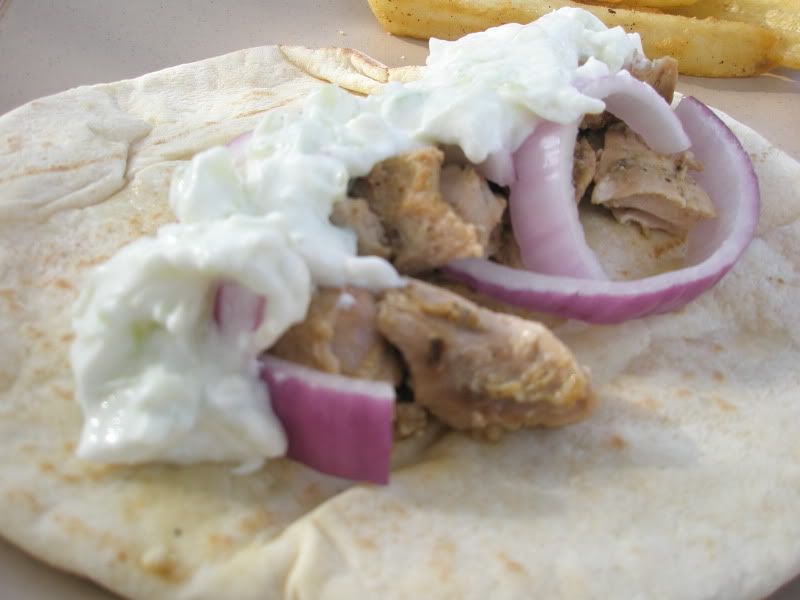 1.25 lbs. chicken pieces (my dad chose thighs so that's what we used)
4 cloves garlic, smashed
Juice of 1 lemon
2 tsp. red wine vinegar
2 Tbsp. extra virgin olive oil
2 heaping Tbsp. plain yogurt
1 Tbsp. dried oregano
salt and pepper
Batch of tzatziki (recipe below)
sliced tomatoes
sliced onions (I use red as they are the only kind I like raw)
4 pocketlesspitas
Whisk together the garlic, lemon juice, vinegar, oil, yogurt, and oregano in a bowl. Add the chicken and rub the marinade in. Cover and refrigerate for about an hour.
Preheat the broiler (or grill, or pan on the stove).  Sprinkle the chicken with salt and pepper on both sides, and then broil until cooked through, about 5 minutes per side, depending  what size/type chicken you are using. Allow the chicken to rest for a few minutes before slicing into strips.
Meanwhile, heat your pitas. I have a gas stove, so I just spray them with a little bit of oil and stick them right on the burner for a few seconds per side. Top the pita with the chicken, tzatziki, tomatoes, onions. Roll up and eat!
Tzatziki Sauce (From: Elly Says Opa!)
16oz. container of plain yogurt (I bought some greek yogurt at Trader Joes)
1 regular cucumber, seeded
1-3 cloves garlic–depending how  you like it, crushed (I used the crush garlic from Trader Joes)
1 tsp white wine vinegar
salt and a little pepper
squeeze of fresh lemon juice (I omitted as I threw it away on accident)
drizzle of extra virgin olive oil
Strain yogurt using a cheesecloth over a bowl (if you don't have that, a strainer lined with a coffee filter will work) for several hours or overnight to get out as much moisture as possible.
Peel and seed the cucumber.  Shred the cucumbers and then squeeze the life out of them to get rid of as much excess moisture as possible. I used a paper towel with promply broke, then used a towel which worked better, there is LOTS of moisture in the cucumber so strain as much as possible… You don't want a runny tzatziki
Mix together the strained yogurt, shredded cucumbers, garlic, vinegar and lemon juice (if desired). Salt to taste. It's best to refrigerate for 30 minutes or more before serving, so flavors can meld.
Drizzle a little olive oil over the top.
© 2009, Carrie. All rights reserved.