I love soup! I love everything about soup. Here in Minnesota we are going on 80 hours of below zero. It was my turn to bring lunch for all the girls at work today so I decided to make some broccoli cheese soup.
I have had this starred in my google reader for a long time. It was well worth the wait. It was SOOO creamy and the flavor was just amazing not overly cheesy. Just the right amount.
Sorry for the bad photo, it was taken on my camera phone at work. Because I need to take this into work. I made it in the morning put it in the slow cooker and then about an hour before we would be eating I turned it on to warm up. Also because I am a cheese lover I used 2 cups of cheese instead of the 1 1/4 it called for.
Broccoli Cheese Soup (From: Bliss~Felicite Orginally From: Emeril Lagasse)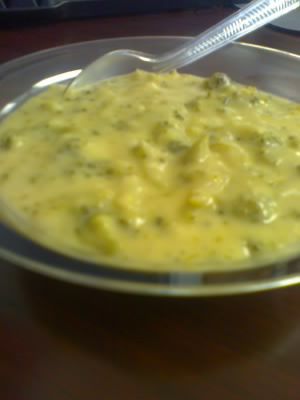 3 tbls of unsalted butter and 2 tablespoons cold unsalted butter, cut into pieces

1 cup of yellow onions or sliced leeks (use only the bottom white part)

1/2 tsp of salt

1/4 tsp of ground pepper

Pinch of nutmeg

1/2 tsp of chopped garlic

1/2 tsp of chopped fresh thyme or 1/8 tsp of dried

3 tbls of flour

3 cups of low-sodium chicken broth

1 (16-ounce) package frozen broccoli, thawed & separated or 2 to 3 cups of fresh

1/2 cup of heavy cream

1 1/4 cups of shredded medium Cheddar
In a medium pot, melt 3 tbls of butter over medium-high heat. Add the onions, salt, pepper, and nutmeg and cook until soft about 3 minutes. Add the garlic and thyme. Stir frequently for 20 seconds while it cooks. Add the flour and stir until throughly mixed for about 3 minutes. Slowly add chicken broth while whisking constantly. Bring to a boil. Reduce heat and simmer until thickened for about 5 minutes. Add the broccoli and cook for 10 minutes until tender.
Add the cream and barely bring to a simmer. Then add the cheese and lower heat till the cheese is melted. Add the remaining 2 tablespoons cold butter. Stir until it is mixed throughly.
© 2009, Carrie. All rights reserved.